We've heard from you on social media, our discord group, and emails about wanting ways to build a sustainable gaming business and earn revenue from in-app ads, and we've delivered with the help of Google! We are happy to announce the launch of Cocos plug-in for Google AdMob. Today you can monetize your game in a few steps. Read on to learn how to get started.
Download the plugin now at the Cocos Store
What are the trends with mobile games?
Mobile is one of the biggest gaming platforms in the world, valued at over $81.3B, and continues to be the fastest-growing platform, with 50.6% projected revenue of all of the game industry in 2023. Developers are diversifying their revenue streams with in-app ads, in-app subscriptions, in-app purchases, and more. To help you build a sustainable ad business model, we're working with ad agencies to help bring their services to Cocos Creator. Today, we're releasing Cocos Creator's first official plug-in for Google AdMob.
Access the AdMob plug-in on our Cocos Store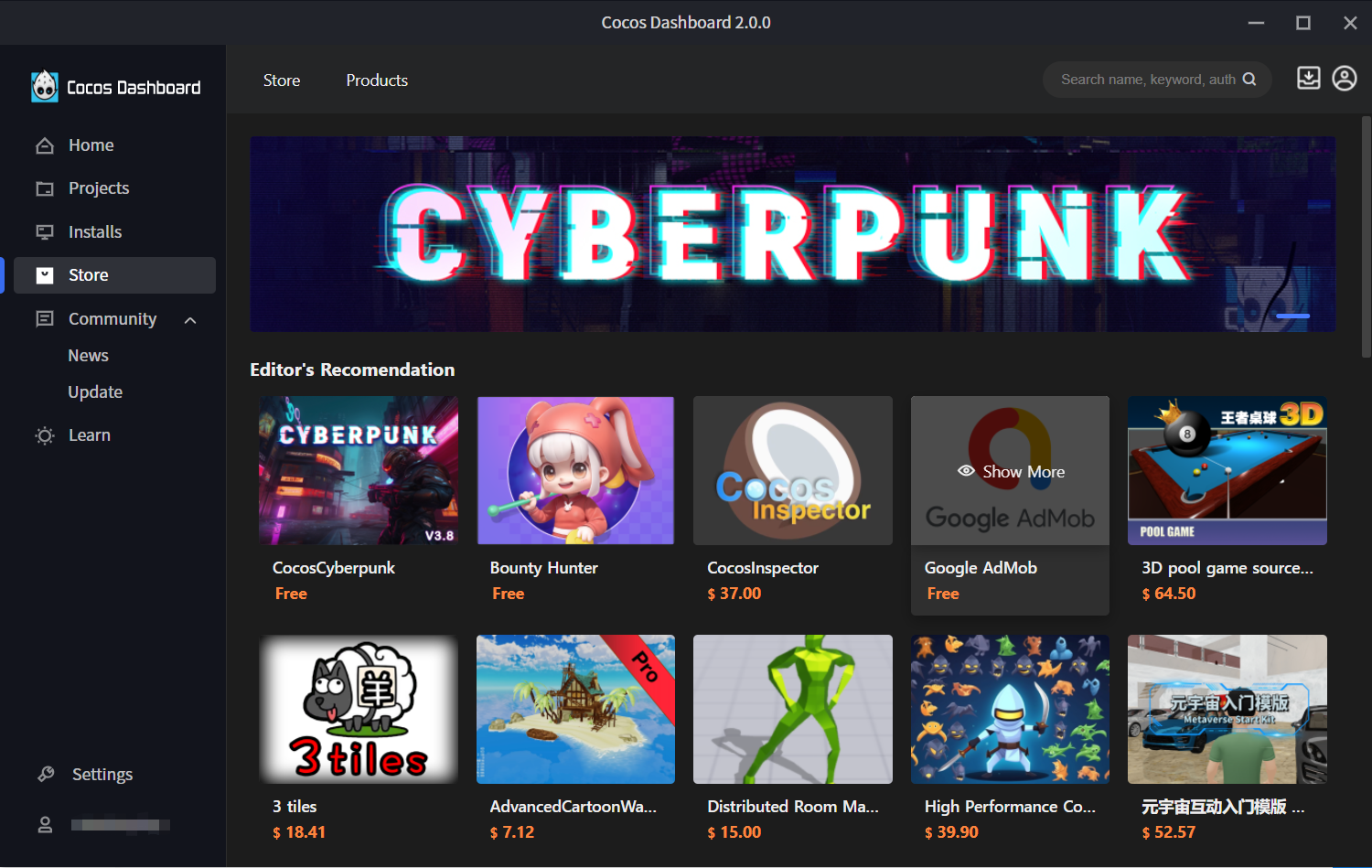 Open Cocos Dashboard.

Log in to your Cocos account.

Go to the Store section.

Search for "Google AdMob"

Click on the Get button.

Once accepted, click the "Add To Project."

All Cocos Creator 3.7.3 or above projects will be shown. Choose the one you want to add to and press "Confirm."

The extension will be added to your project automatically.

Open the project and start using the extension. You can also view more information about the extension from the Extension Manager.
Get started With AdMob
Getting started with AdMob is easy.
First, create an AdMob account.

Then, create ad space in your app. Create ad units in AdMob to make ad space in your app. You choose where you want the ads to appear when you add the ad units to your app code.

AdMob will show the highest-performing ads to your users. AdMob works with its own network and third-party ad networks to deliver the highest-performing ads in your app.

You get paid. AdMob handles all the behind-the-scenes work of billing advertisers and networks for the ads shown in your app. Then, you receive your payments.
Four quick tips to optimize your monetization strategy
Let's say you have successfully added AdMob to your game! We asked Google what else developers should do to continue to optimize their monetization strategy. They shared four ways to optimize:
What are the different ad formats that are supported by the plug-in?
There are five that are currently available for you to use now!
Banner
Banner ads are rectangular image or text ads that occupy a spot within an app's layout. They stay on screen while users interact with the app and can refresh automatically after a certain period. They're a great place to start if you're new to mobile advertising.
Interstitial
Interstitials are full-screen ads that cover the interface of an app until closed by the user. They're best used at natural pauses in the flow of an app's execution, such as between game levels or after completing a task.
Native
Native is a component-based ad format that allows you to customize how assets such as headlines and calls to action are presented in their apps. By choosing fonts, colors, and other details for yourself, you can create natural, unobtrusive ad presentations that can add to a rich user experience.
Rewarded
Rewarded video ads are full-screen video ads that users can watch in full in exchange for in-app rewards.
App open
App open ads are a special ad format intended for publishers wishing to monetize their app load screens. App open ads can be closed at any time and are designed to be shown when your users bring your app to the foreground.
Some other resources
View our technical guide for screenshots and detailed instructions on how to get started with the AdMob plugin.

AdMob Starter Guide - learn how to maintain account hygiene, etc.
Let us know your questions and feedback on our Cocos Forums.
With seamless integration with Cocos Creator, the Google Admob plugin makes it easy to earn revenue from your game. Download now and start seeing results!