A casual puzzle game released on the WeChat platform, the game "Tolaji The Coward" was said to be too difficult to play by players.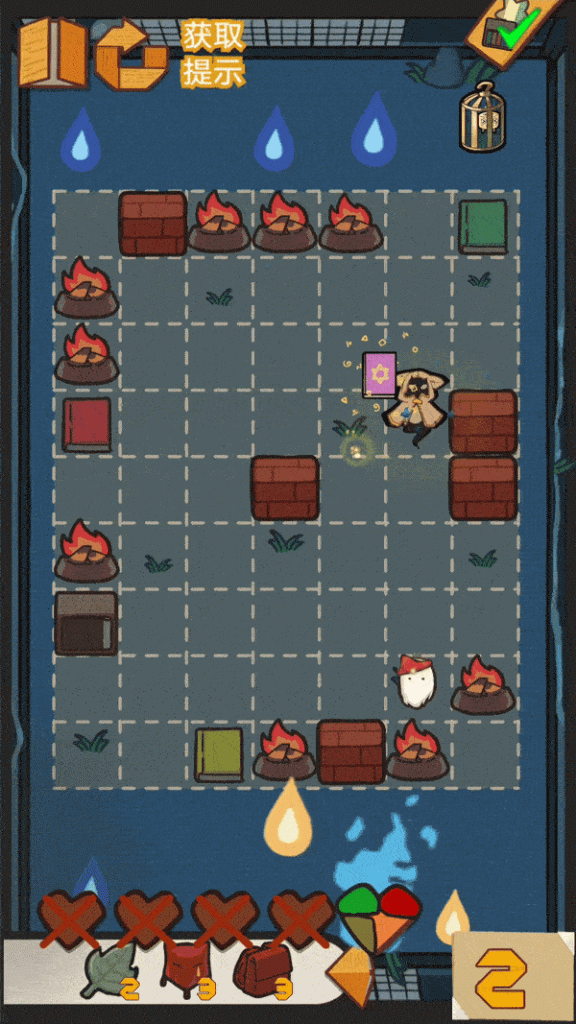 Players control the movement of Tolaji through "one-swipe movements," avoiding obstacles, and collecting books to put on the bookshelf before escaping to the next secret room. Due to the addition of diagonal movement in addition to up, down, left, and right directions, the game's complexity is multiplied the further you play. Various obstacles emerge in an endless stream, such as ghosts that will die at one touch, ghosts that chase you, changing terrain, and obstacles that block the way.
In this game, players can hardly experience the thrill of "passing a level" and more of a cycle of thinking, trying, and failing. As the difficulty of the levels continues to climb, players have to pay more and more attention and brainpower to understand the complex and changing rules and mechanisms - and this will undoubtedly dissuade many casual players. No matter how you look at it, this is a very "not a mini game" mini game.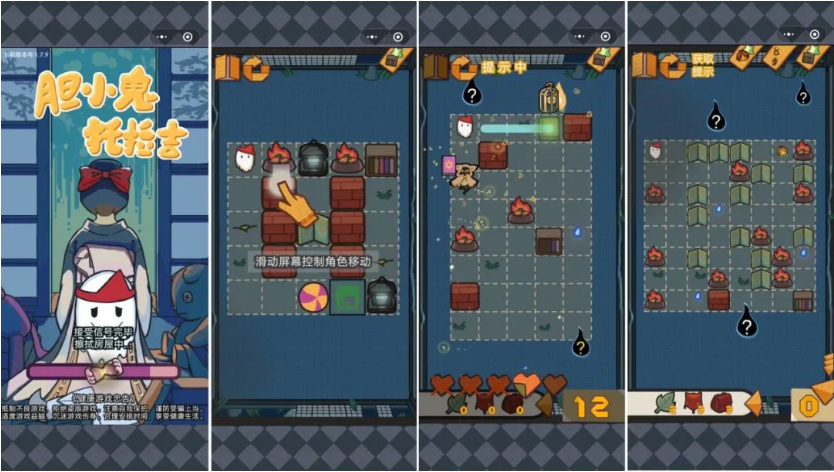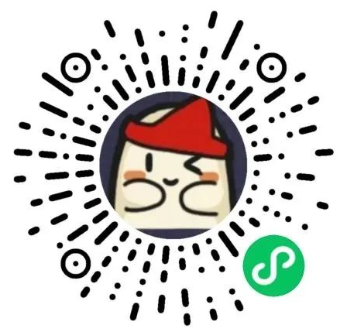 Despite being on the list of "Creative Mini Games" officially selected by WeChat, the developers of "Toraji the Coward," EATJUNE & KIRIN, admitted to us that the game development is "ugly." However, as the couple's first online work in four years after their resignation and co-founding, this work developed using Cocos Creator took them through the whole process of building small games from development to distribution and gave them a sense of "independent game making." Sister C, our Chinese interviewer, talked to the pair about the development process.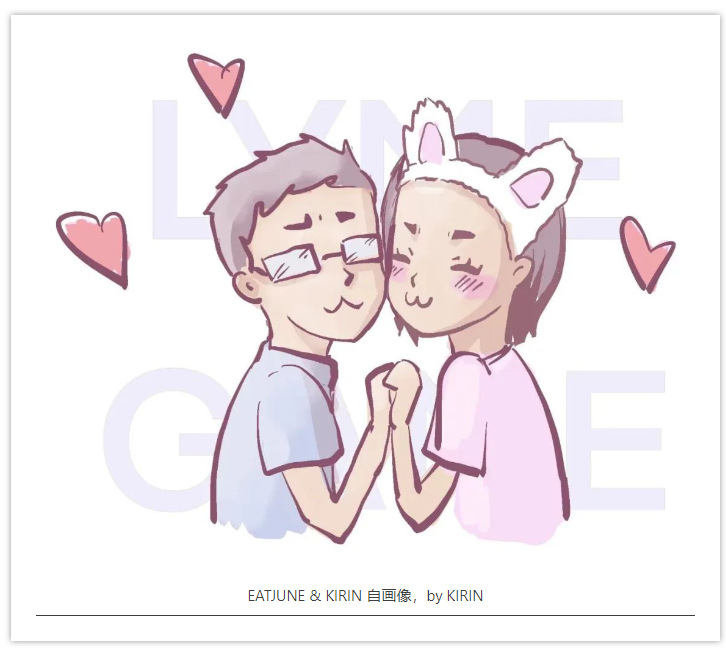 Please share with you the development process of "Toraji the Coward"!
EATJUNE: The research and development of "Toraji The Coward " took about a year. Besides me and KIRIN, we had a new friend who has done the level design for about half a year to help out. I am mainly responsible for the rest of the programming. The art was done by KIRIN alone, and she designed the way the whole game behaves.
In terms of distribution, we first looked for overseas distribution. After signing the contract and sending it in, three or four days later, the department was disbanded. Then we did a test on Douyin, and the results were not satisfactory. Later, the WeChat mini-game was launched, and we won the "creative mini-game" award, which received a certain amount of exposure, but there wasn't much publicity.
Why did you want to make a game like "Toraji the Coward" in the first place? Where did the inspiration for the game come from?
EATJUNE: We have been developing PC projects in the past few years, but they ended abruptly for various reasons. I'm not too young, so I wanted to make a small game to test the waters. After all, I haven't had a finished product for so many years. It's very stressful. Cocos Creator is very easy to make small games. Except for some minor problems, most of the work was still very smooth, especially without waiting for the compilation time, which is very cool.
Initially, we wanted to make a casual game that could be played with one hand and tend to be action-oriented. The creative gameplay or gimmick is a "one-swipe movements." Later, considering the R&D efficiency and the team's inexperience in making the game for the first time, we changed the gameplay halfway. , choosing puzzle solving with relatively low development difficulty.
KIRIN: Originally, the theme I thought was "chuan chuan" (skewered meat and vegetables boiled in oil) Chinese food style, but "chuan chuan" had relatively high program requirements, so I had to give up halfway. Later, the theme of "escape from the haunted house" came to mind, and it felt more attractive. Considering that there is more content in the later stages, the style of the minimalist version was adopted.
What is the most significant difference or highlight of "Toragi the Coward" compared to similar games?
EATJUNE : Compared with other similar games on the platform or analysis by our audience, the difference is quite significant. At least I designed this game with the mentality of treating it for PC or console players. Ultimately, it may also be because this decision led to " Toragi The Coward." doing poorly commercially.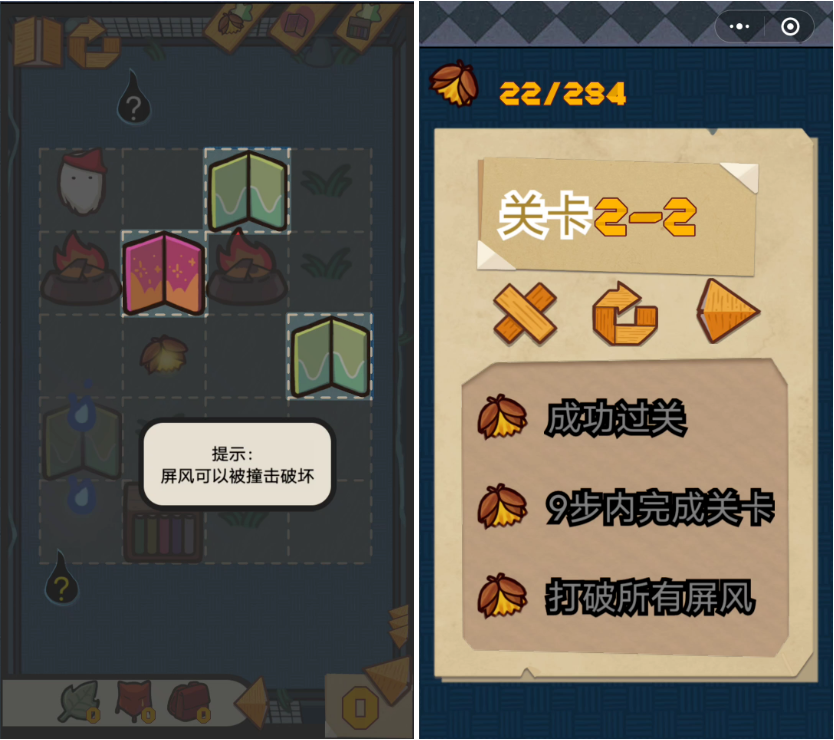 And introduced the setting of multiple achievements on one level.
First, the game's difficulty is considerably more challenging for a light user or those not playing a similar game. Though we adjusted the game, the game's general rules have a certain threshold for players to understand. In addition, the game's presentation is much worse compared to other similar mini-games, which is not conducive to social platform dissemination. If I were to say what the highlights are, it would be the design and the art.
Could you please briefly introduce your past professional experience? Why did you choose to start your own business and make games?
EATJUNE: As soon as I graduated, I started working at a game company. After two years, I felt that the work I was doing was tedious. I wanted to make something different, make something creative, and fight for it to come true while I was young. When you are older, you may not have the energy to do many things, and after you have a child, you will look forward to the future, so at that time, I quit my job and cooperated with a colleague to make a PC game.
KIRIN: I majored in Japanese at my university and graduated in cross-border e-commerce. I like to draw, but when I was a child, I didn't know that a college majoring in art must take the art college entrance examination, so I missed it. Later, the object was going to be a game. I said we should do it together, so I changed my career. I hope it can be helpful, although it is often a disservice. He said that, like being together in a boat, when he was rowing forward desperately, it would be okay if I didn't row, and sometimes he would get very angry when he started to row backwards.
As a husband and wife and as work partners, have you encountered many differences in the four years of playing games together? How do you adjust and resolve issues?
EATJUNE: There are still quite a few differences at work, especially when work and life are together. More factors cause differences. The solution cannot be generalized, but specific events must be analyzed in detail. Anyway, the conclusion is that I don't recommend that husband and wife cooperate unless they both have good temperaments.
KIRIN: When I was young, I was noisy, but now I don't make much noise. In the past four years, the pressure has been tremendous in all aspects, such as funds, family, etc. People say, "You earn less from part-time jobs, and you lose more money when you start a business." I feel that if we had children, we might not have the courage to persist in starting a business. I still don't recommend that husband and wife form a business because there will be quarrels over trivial matters in life, and creating a business is three times the quarrel.
Have you ever experienced difficulties or bottlenecks since you worked together to make games? How do you spend these times?
EATJUNE: Barring some good times out and having fun, it's hard times. How can I get through it? Communicate more, be reasonable, and don't always read negative information on the Internet, which will affect the mentality.
KIRIN: Get some sleep, eat something delicious, and play fun games. It's usually fine. Don't be too pessimistic. The main thing is that the two of us are matched up, which helps us not get tired from work, and we are husband and wife, which will be better than ordinary people working together.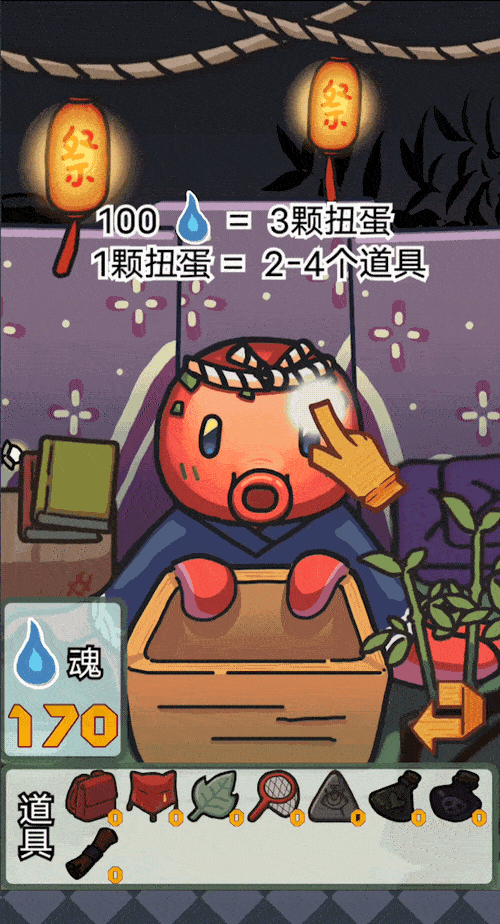 "Resigning to make your own game" should be the dream of many developers. In your opinion, what qualities or abilities do you need to have to be a qualified independent game developer?
EATJUNE : Technology, perseverance, good living habits - these are actually some common needs, but how should I put it? I think most people should not be used to this kind of life.
KIRIN: Self-control is more important. Otherwise, it's easy to miss a plan, the days of ignorance will pass, and you won't be able to do anything. After all, there are few all-around talents, and it is still necessary to find a partner if it can be outsourced in a timely manner. Doing this depends on ability and luck on the other. I feel that young people should not be too proud. It is not too late to accumulate experience in the company.
If someone wants to quit their job and make games independently, what advice would you give him?
EATJUNE: If you are old enough and have a family to take care of, you will definitely not quit your job. If you are still young and your family's financial pressure is not too great, then you can really consider it. In addition, there are some differences between "making an indie game" and "making a game independently." "Making an indie game" is really not something that ordinary people can afford. It is only done by people who really love games. Make the smallest game you can make, and then think about the future path step by step, don't overthink about other things. It's not necessary.
KIRIN: No matter where you are, you must first practice your basic skills. Talents are talents wherever they go. Now that major factories are laying off employees, it is hard to find jobs. If you think this is a good time to quit your job and make games, are you confident in your abilities? However, everyone's situation is different, and it is still necessary to consider their actual situation. If you really want to do it, no one can stop it.
Do you have any plans for game development in the future?
EATJUNE: In the future, maybe we'll make that "chuan chuan" game, and the other possibility is to create a PC game.
KIRIN :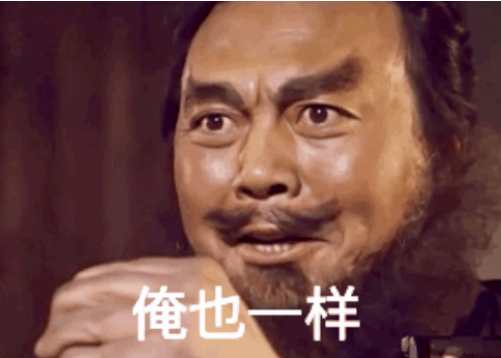 ---
Thanks to EATJUNE & KIRIN for sharing their game development journey with you. I believe that interesting souls with down-to-earth actions will eventually find their own way. We also look forward to more and more high-quality work coming out from them in the future!