China is having a great year for gaming. From January to June 2020, due to the impact of the Covid-19 epidemic, people in China have been looking for more entertainment while staying indoors, leading to more game players and more games coming out this year.
The development momentum of the Chinese game market is growing strong, and mobile games have driven the acceleration of revenue in the Chinese game industry.
Cocos has seen a few significant trends that are happening inside China this year that we're very excited over as well as Gamma Data just released their report on the last six months and shared some data on what they expect for the next six months. We have translated some of the essential information and wanted to share them with our Cocos developers.
Quick Facts
From January to June 2020, China's game market reached almost 140 billion yuan, a year-on-year increase of 22.34%.
There are currently 657 million Chinese gamers, an increase of 1.97%, compared to the 22% increase in 2019.
73% of game revenue is coming from mobile games.
86% of game revenue from Chinese gamers are staying in China.
China's game industry is back to a new normal
China, like most of the other world, is getting back to normal. But for gaming, returning to a healthy, average industry took developers more time to evolve, even before the impact of the epidemic came onto the scene.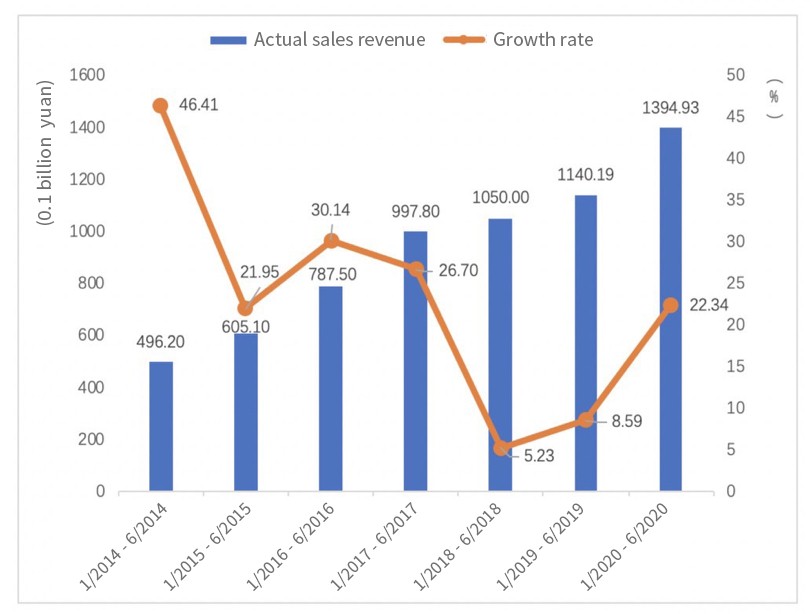 We can see this year compared in January to June 2018, sales revenue only increased by 5.23% year-on-year, which was much lower than the 26.7% in 2017. The fundamental reason behind this is that China froze ISBN approval between March and December 2018. During this period, the ISBN approval operation was unavailable, and a large number of games were unable to be released, which resulted in a long wait, as no new games were launched on regular channels in China.
However, The freeze of ISBN prompted many Chinese developers to go overseas. The growth rate of sales revenue from Chinese developed games in overseas markets increased dramatically year by year since 2018 (much higher than the Chinese market), and from January to June 2020, sales revenue reached 7.589 billion US dollars.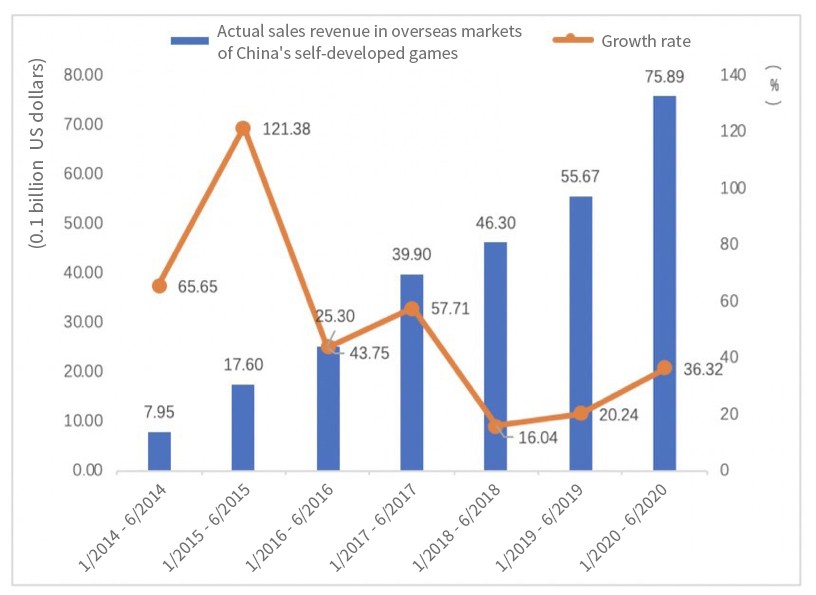 Of the Chinese mobile games going overseas between January and June 2020, the most popular genres were strategy (AFK Arena, built using Cocos), shooting (PUBG Mobile), and role-playing games (Perfect World). Most of that revenue by country is coming from the US market (28.23%), the Japanese market (23.26%), and the Korean market (9.97%).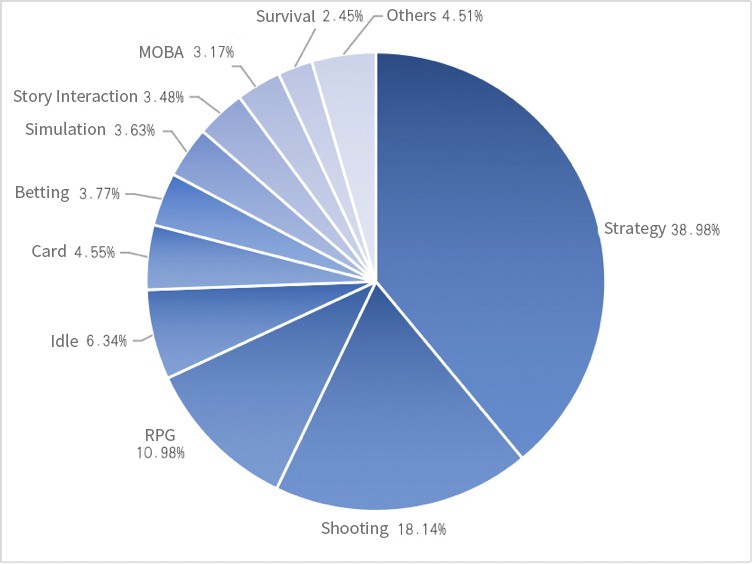 With the saturation of phones in China, the growth of China's gamers have slowed down, and the game market has become more competitive. From January to June 2020, the number of game users in China was nearly 660 million, a year-on-year increase of 1.97%, or an increase of approximately 12.71 million (see Figure 4).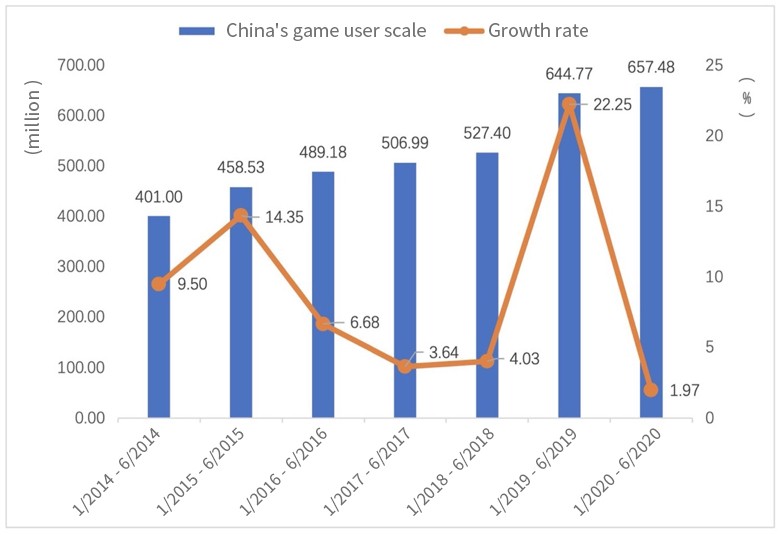 What is popular in China today
According to the revenue distribution of the top mobile games, the top 5 popular mobile game genres in China in 2020 are RPG, Shooting, MOBA, Turn-Based RPG, and Strategy.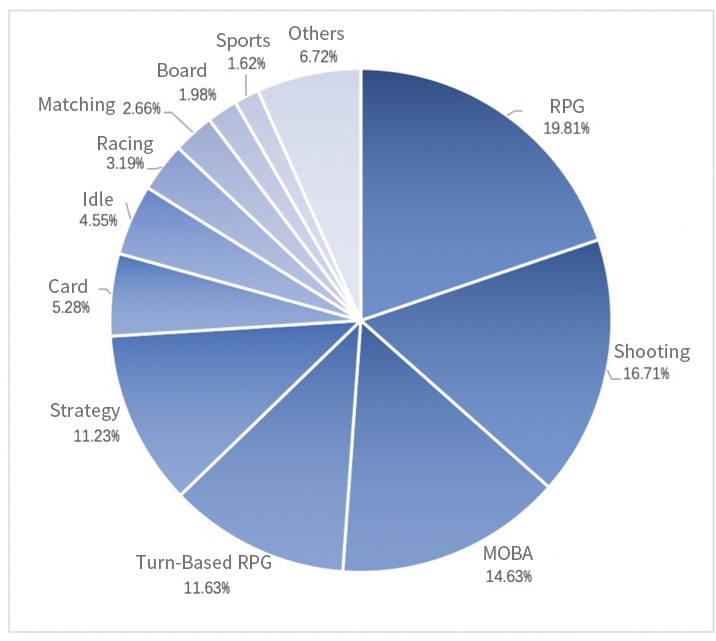 With most gamers looking towards their phones for the past few years for hardcore gaming, these games you'd find big on PC or console elsewhere are being released for mobile phones. With the addition of 5G and new, more powerful phones to China, it's not a trend stopping anytime soon.
The RPG genre has always been a hot genre in China, one example is a game called Spiral Warrior, which is created with Cocos and highly rated on TapTap and Google Play. In this game, you can use your own modified spinning tops, similar to the game Beyblades, to fight in 1v1 or 1v1v1 battle. You just knock the opponent's top into the air or stop them from spinning to win. We will introduce this amazing game in detail next week.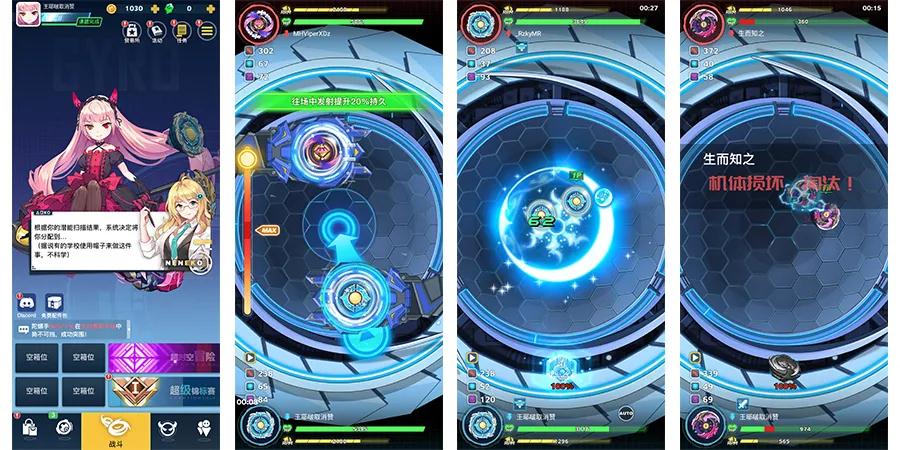 Shooting games have been steadily growing in China with games like PUBG Mobile (renamed Game of Peace for Chinese) and Call of Duty: Mobile still hitting big in China.
MOBAs are starting to decline since being the powerhouse of gaming in China for a few years. Honor of Kings isn't doubling the revenue of the #2 game as it did in years past, but it's still staying #1 in China on the App Store.
Speaking out for the casual space, Cocos has been part of a new revolution due to the issues with ISBN registration that we shared earlier. This has led to many new HTML5 games that are being released in apps like WeChat, Alipay, and TikTok. All of these and other apps are supported by Cocos Creator, making us the biggest mini-game game engines in the country.
This has also led us to bring many of these games to other countries using Cocos Play placed in apps like Nestia, OnePlus Game Space, and Wiko GameBox.
It's still very new for some companies, so seeing how this trend moves inside and outside of China for game developers in China is an early trend all game makers in the casual and hypercasual space should be looking for.
E-Sports are making money, slowing in growth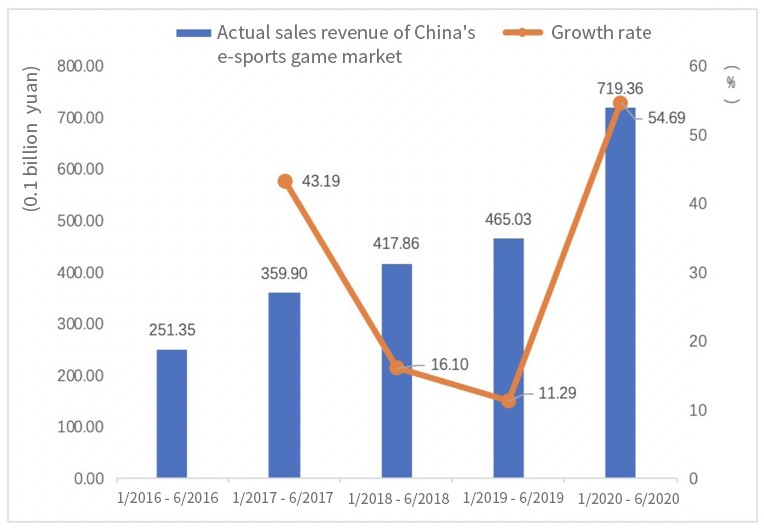 With all the lack of events this year, it's surprising to see that e-Sports in China continue to climb to 71.9 billion yuan in the first six months of 2020. This growth has improved thanks to the effort of game companies working to make their more popular games available to the e-Sports scene. Though the money being made is growing, there is a continual fear that we could hit saturation of interest in China for e-Sports soon with only an increase of under 10% from the past year and has about 73.5% of the total gamer market.