On May 9, Cocos officially released Cocos HMI, a smart cockpit solution, and launched four products: in-vehicle human-machine interface (HMI), automatic assisted driving visualization, an in-vehicle avatar, and in-vehicle games to help upgrade the smart cockpit experience.
According to IHS research data, among the key factors for Chinese consumers purchasing a car, the second most important factor was the level of intelligent technology in the cockpit. The most important factor was its safety. This importance exceeds factors such as power, price, and energy consumption. At the same time, Chinese users pay more attention to smart cockpit technology than the United States, Japan, the United Kingdom, and other countries. The research report of the CICC believes that upgrading the software and hardware of the smart cockpit will bring an incremental market increase of 100 billion yuan. By 2025, China's smart cockpit market space will reach 119.6 billion yuan.
Consumers' acceptance of smart cockpits has been continuously improved, and their understanding of the system has been further strengthened. To create differentiated competition to compete for market share, car manufacturers have further enriched the hardware and software configurations of smart cockpits, which can bring people a variety of smart experiences.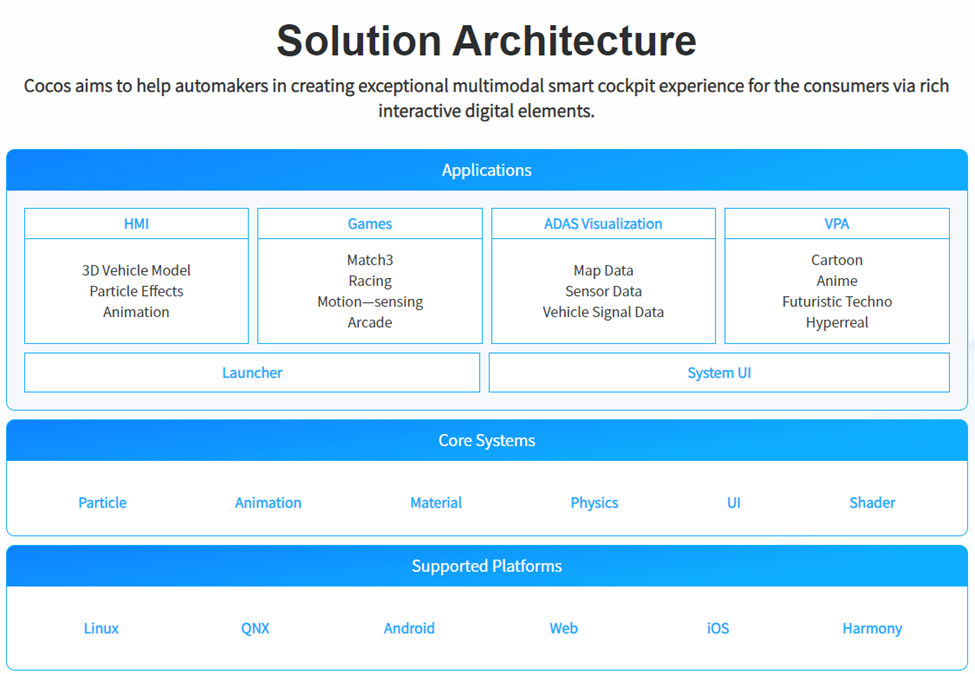 Cocos HMI
Making the cockpit more technological and making driving more enjoyable
Based on the Cocos 3D real-time rendering engine, Cocos has launched a smart cockpit solution for the automotive industry suitable for mainstream car systems such as Android, Linux, QNX, etc., to help cars upgrade intelligently.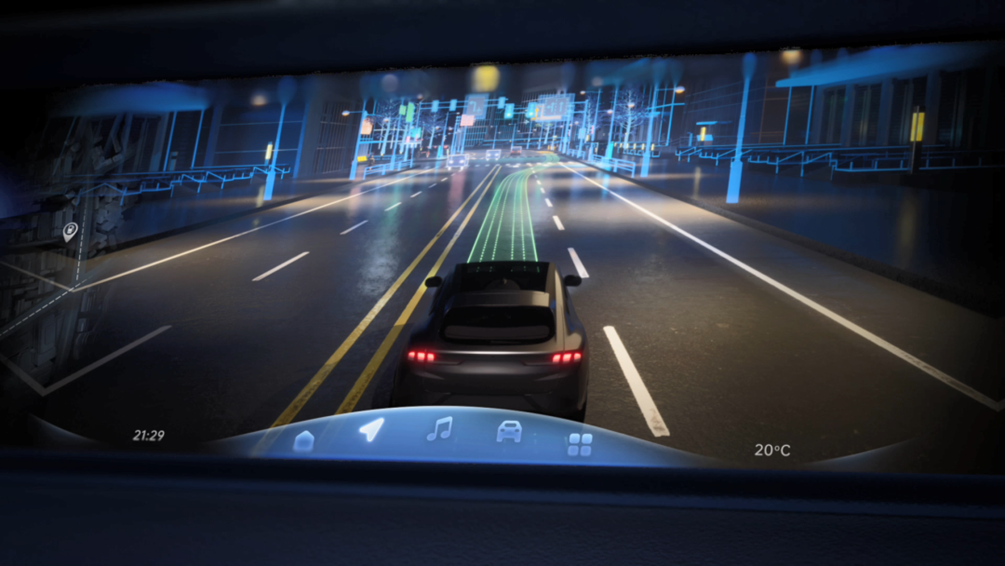 Provide professional solutions for smart cockpits and help OEMs create differentiated products
Smart Cockpit Solution Cocos HMI
1. Onboard human-machine interface
As more and more drivers put forward higher requirements for the visual environment in their vehicle, such as human-computer interaction experience, and assisted driving functions during driving, the trend of smart cars is irreversible, whether traditional OEMs or new power brands. They have made efforts to provide smart cockpits to provide users with the best driving experience through rich human-computer interaction content.
Based on the real-time 3D rendering capability of the Cocos engine, the onboard instrumentation and HMI interactive interface are built, and the powerful PBR material system is used to present the 3D car model on the central control screen with high fidelity. This helps car companies design various HMIs, infotainment systems, or digital cockpit experiences, make HMI an effective information interaction carrier between people and cars, and comprehensively improve the interaction experience.
2. Visualization of automatic assisted driving
With the rapid development of the autonomous driving industry in recent years, L2-level assisted driving has gradually become popular in new cars of various brands. Many manufacturers have launched their own assisted driving systems. At the L0 ~ L4 level of autonomous driving, the 3D visualization of autonomous driving/autonomous driving assistance systems is indispensable. Drivers need to grasp the vehicle's situation more intuitively to drive the car more safely.
With the help of Cocos' 3D engine capabilities, the perception data and positioning map data obtained during driving are modeled and rendered to create the visualization of automatic assisted driving. This lets users enjoy a cooler and more immersive 3D panoramic view, promotes the integration of the cockpit service domain and the driving domain, further creates an immersive cockpit experience, and helps car customers and partners create a safer autonomous driving experience.
3. Car avatar
As one car with multiple screens has become the mainstream in the industry, more and more smart cars have begun to be equipped with AI in-car assistants with virtual images. The in-vehicle assistant, which carries functions such as human-computer interaction and invoking software services, also affects the interactive experience of the smart cockpit. The in-vehicle avatar solution launched by Cocos is also suitable for in-vehicle assistant scenarios.
Relying on Cocos' 3D rendering capabilities, animation, and skeletal system, Cocos provides a full range of technical support with avatars. Provide users with personalized, interactive, and exclusive avatars, regardless of voice, language, expressions, and actions, with high texture and high interaction capabilities and 3D dynamic effects, bringing a better "human-machine interaction" experience.
Cocos avatars can not only run on onboard chips but can also be stored on the cloud for real-time rendering, solving the problem of high-precision models' dependence on hardware, creating low computing power in the car, and allowing more users to experience the fun of interacting with high-fidelity avatars.
4. Car games
According to a report by Daimler AG, in-vehicle gaming is a viable business model that, in addition to providing more interactive entertainment for passengers, may also provide more engagement in autonomous driving scenarios. The car will become a mobile entertainment center, which is one of the trends that auto parts manufacturers, software providers, and automakers are gradually pushing for "soft" cabin upgrades.
Relying on Cocos' strong accumulation in the game industry, Cocos can help manufacturers build in-vehicle game centers and become an important differentiated service for car manufacturers. Users can click and play in fragmented time. The high-quality game content can be linked to the hardware capabilities of the cockpit at the same time. With the innovation of interaction methods, the cockpit can be transformed into a "mobile game hall" in seconds. When the car owner plays the game, he can also interact with the car—interaction within the environment. Cocos already has a complete game business ecosystem, covering ecology and in-vehicle content operation services.
5. Car music

Create the ultimate car music experience
In-vehicle music is an essential function of the smart cockpit. With the help of the Cocos real-time rendering engine, combined with the music beat, it can achieve more cool animation effects. At the same time, the display of lyrics is also more flexible and diverse, which significantly enhances the musical atmosphere of the cockpit.
Six core advantages:
Making car intelligence easier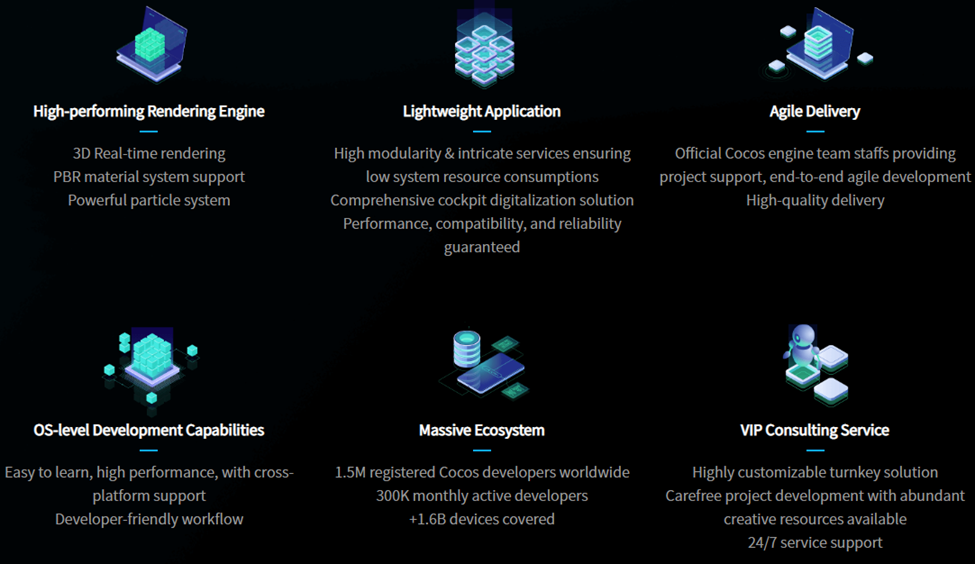 Most smart cars use chips with the same computing power as mobile phone SoCs. To achieve parallel operation of multiple functions such as navigation and entertainment in the car, higher requirements are placed on the rendering ability and load of the engine. In the fields of mobile games and online education, the Cocos engine has captured the favor of many manufacturers with its advantages of a lightweight, small package, and low requirements. The Cocos Creator editor can realize cross-platform development of digital interactive content, achieve one-click deployment to multi-system platforms, and improve project development and maintenance efficiency in the automotive field.
In the field of the smart cockpit, Cocos has comprehensive proposal/design/development capabilities. With a real-time 3D engine as the core technology, Cocos provides customers with overall solutions and services from demand analysis, product design, and technology development to application software customization, helps partners launch high-quality products quickly, efficiently, and at low cost, and provides car owners with better solutions. A smarter, safer cockpit experience.
To help the development teams of car manufacturers solve technical problems, improve development efficiency and reduce development costs, the official Cocos team has also created technical support services, including technical support, corporate training, and project evaluation. In this way, the technical team of the depot can quickly take over the maintenance of the project and complete the capacity building.
Cocos has also built an open-source developer ecosystem. After more than ten years of development, Cocos has accumulated 1.5 million registered developers, 300,000 monthly active developers, and developers in more than 203 countries and regions around the world, covering more than 1.6 billion devices. Cocos works to improve game development, automotive, online education, XR, smart home, and other fields. It has formed a virtuous circle of technology empowering developers, application strengthening platform ecology, developer ecology feeding back solution ecology, and industry chain ecology.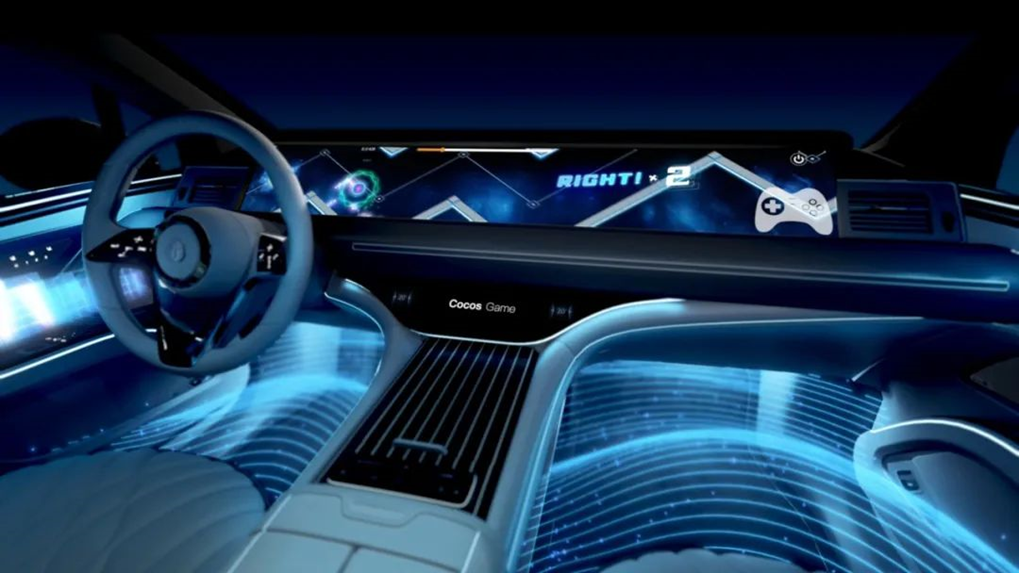 Continue to promote technological iterations to help the evolution of smart cockpits
From traditional cockpits to human-machine co-driving, with the continuous enrichment of functions of the smart cockpit system, various applications such as navigation, games, and life are gradually being installed on the in-vehicle system. The creation of smart cockpits changes human-computer interaction and service acquisition methods and will rely on applications and service ecology to derive broader business prospects. The huge foreseeable value of this space has been exposed and is the tip of the iceberg for future vehicles.
With the advancement of automobile intelligence and networking, the importance of smart cockpits has become increasingly prominent, and new car-making forces represented by "Wei Xiaoli" have developed smart cockpits to create differentiated experiences. The smart cockpit, including full LCD instrumentation, HUD, AR navigation, and in-vehicle entertainment system, is expected to become a subversive innovation point in the automotive industry. With the help of the core capabilities of the engine, Cocos can not only transfer the development and operation technology and experience of 2D and 3D content to the field of the smart cockpit but also has made advanced layout in the aspects of in-vehicle HUD, AR navigation, tooling, and developer ecology.
An executive of one automobile company once said: "The screen are the window to the digital world… Screens are the new horsepower." Cocos was born for the screen. As a cross-platform real-time rendering engine, Cocos is committed to providing cross-industry customers with convenient authoring tools, reliable technical solutions, and diversified products and services. In the future, it will continue to deepen its development in the automotive field, continue to consolidate its technical strength, deepen its smart cockpit products and operation services, and cooperate with ecological partners to provide more customers with high-quality products and services.
For more information. You can view it from our official page: https://www.cocos.com/en/cocos-hmi