In September last year, we released Cocos CreatorXR for the first time. We officially supported XR content development, integrated the OpenXR standard protocol, and are compatible with major mainstream XR devices. Cocos supporting XR devices, helps content creators participate in metaverse creation at low cost.
After Cocos CreatorXR was released, many developers created their own XR works. They published them on platforms such as Rokid Air. At the same time, we have also received your opinions and suggestions. This feedback has become an essential reference for continuously improving our tools and iterative versions. We want to express our gratitude to all developers!
With Cocos Creator 3.7.1, the newly upgraded Cocos CreatorXR v1.1.0 has officially launched today. This version improves the commonly used video components and streaming debugging functions in VR creation and, for the first time, adds support for four mainstream AR SDKs, such as ARKit / ARCore / AREngine / Spaces, through the integrated Cocos ARModule. Developers can create Spaces XR glasses AR content development for devices and handheld AR devices.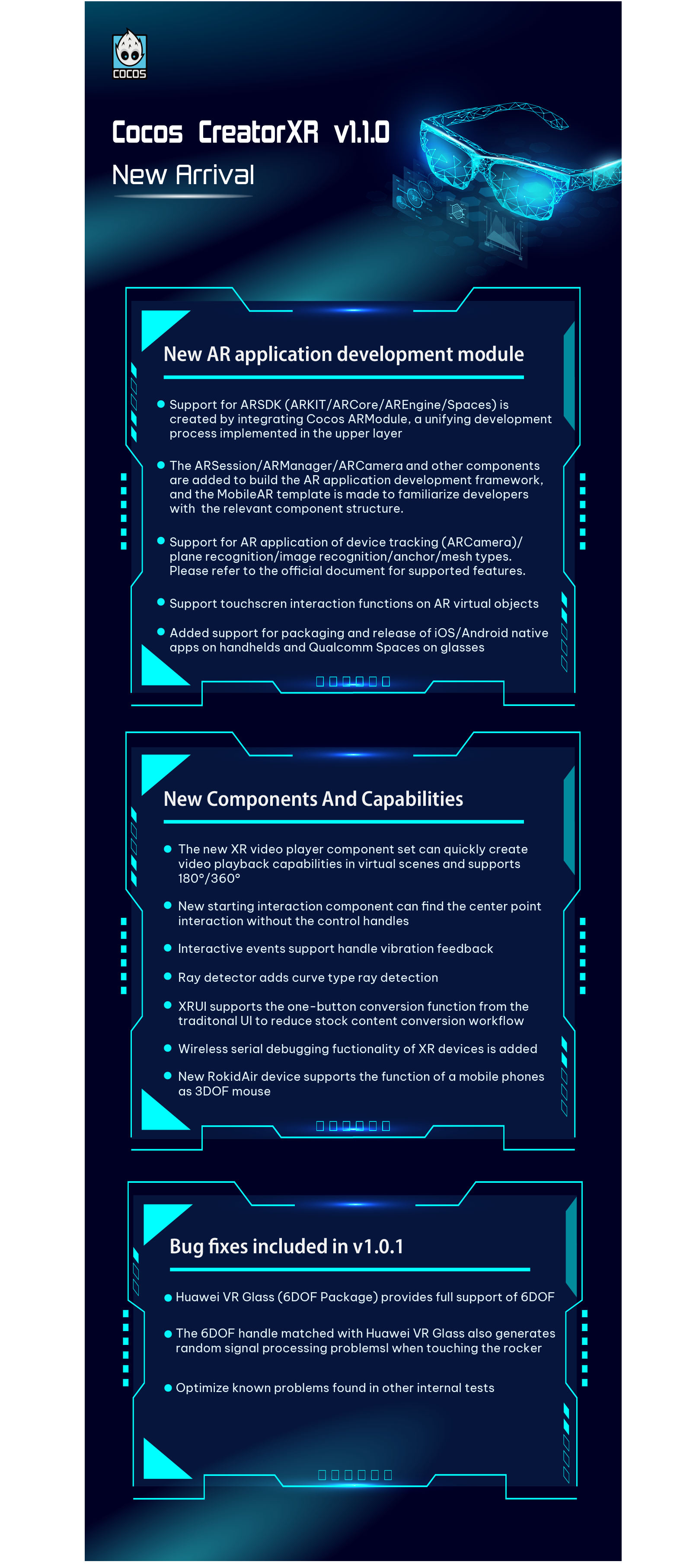 Key features of v1.1.0
Support Snapdragon Spaces XR content ecology
The Snapdragon Spaces XR developer platform, a head-mounted AR development kit launched by Qualcomm, allows for the portability of applications based on the OpenXR specification—Head-mounted AR platform, which also helps to lower the barriers for developers to program with Snapdragon Spaces.
The advantages in hardware platform, XR underlying technology, 5G network technology, and its influence in the personal smart device industry give Qualcomm a greater opportunity to build a unified XR base based on the Snapdragon Spaces. Cocos launched support for the Spaces platform for the first time, driving the content development of Spaces XR to an era of lower threshold and lighter-weight devices.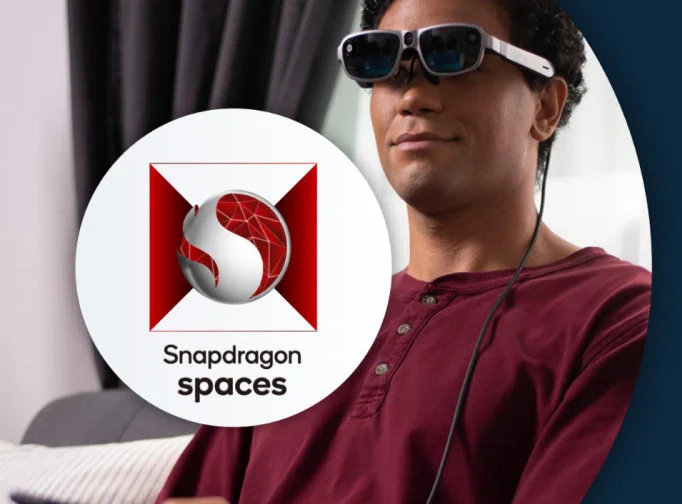 Support content creation of Huawei AREngine
AREngine is an SDK launched by Huawei for building augmented reality applications on HarmonyOS and Android. It has the highest pre-installed coverage in China's handheld devices.
Cocos CreatorXR v1.1.0 officially supports AREngine's content creation through ARModule's secondary packaging of AREngine. It is currently the only full-featured visual editor that officially supports AREngine. It also creates a complete full-process localized AR content ecological closed loop.
Intelligent content construction across AR SDK
At present, many types of SDKs are AR-capable on the market. Among them, the mainstream AR SDKs on the device side (those that require joint calibration of software and hardware) mainly include ARKit / ARCore / AREngine / Spaces, etc... They all have their own independent development environments. Developers publishing content across platforms brings learning barriers and duplication of work.
Cocos CreatorXR v1.1.0 uses the integrated Cocos ARModule to re-encapsulate the above four mainstream SDKs. It smoothes out the differences between different SDKs, so developers do not need to learn and distinguish the underlying SDKs. They can focus more on content creation, efficient cross-platform content research, and development.
AR Authoring Workflow Factor-Action
The difference between AR content and traditional digital content is that AR faces the unknown physical world rather than the established virtual scene. Therefore, in development, if the conditional characteristics of real entities can be clearly and conveniently described, and matching behaviors are performed for such conditions, it can significantly simplify the workflow for developers to deal with complex AR functional characteristics, allowing developers to focus more on writing the core logic of the project.
The Factor-Action component provided by Cocos CreatorXR v1.1.0 abstracts commonly used features and behaviors into "elements" for developers to match freely. Graphical operations greatly reduce the development cost and development threshold of AR applications.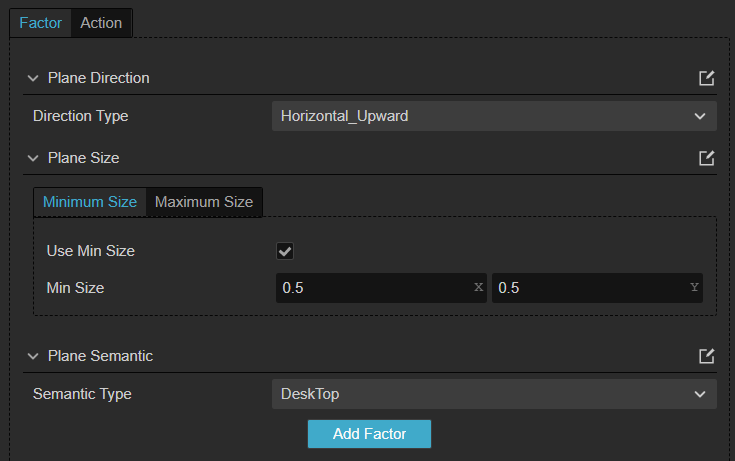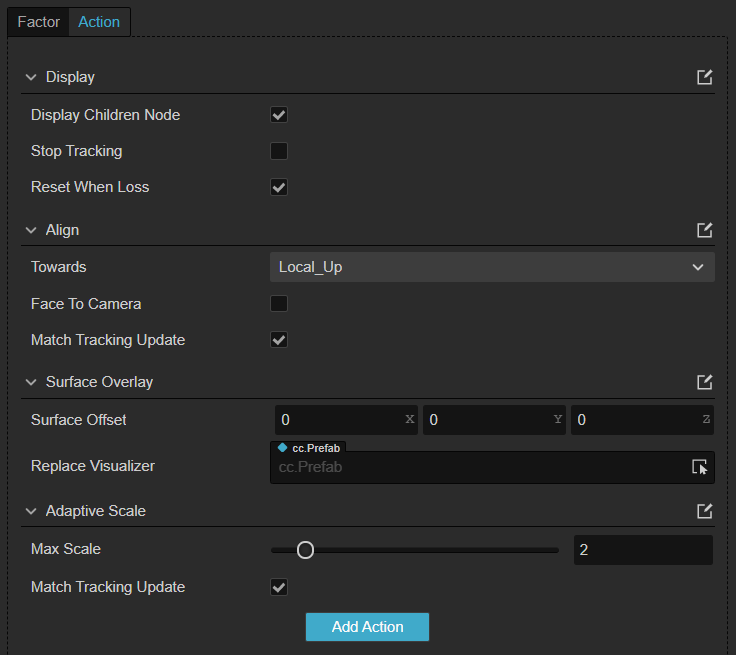 Pre-packaged touchscreen interaction components
For the AR experience of handheld devices (mobile phones/tablets), it is not enough to only be able to present virtual and real superimposed content, and a variety of interaction methods are crucial to the AR experience. Among them, touchscreen gesture interaction is one of the most important interaction means of handheld AR.
Cocos CreatorXR v1.1.0 now comes with a customized set of touchscreen gesture interaction components, which package classic gesture behaviors into components. Developers only need to select the corresponding gestures for different operations through the menu to complete the interaction settings, simplifying the development workload and ensuring the interactive experience's predictability.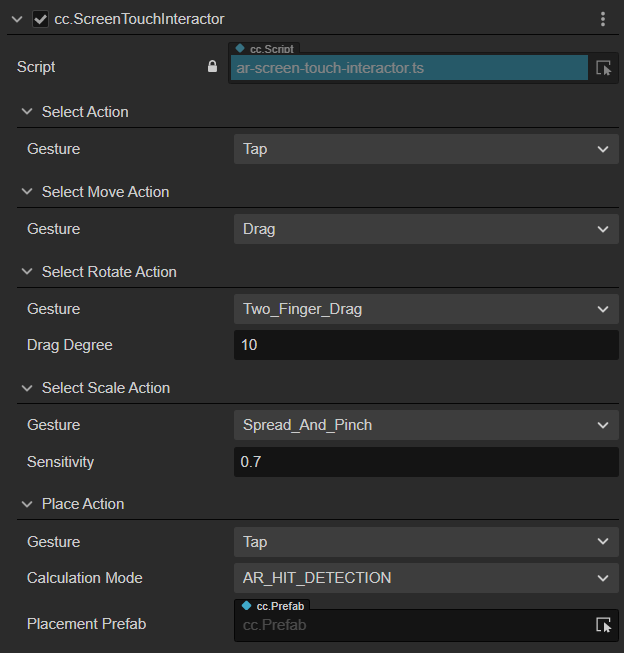 XR Video Player Component
For many XR applications such as metaverse exhibitions, cultural tourism party building, etc., "playing videos in specific areas in virtual scenes" has become a rigid requirement.
Cocos CreatorXR v1.1.0 provides an XR video player that supports regular or 180/360 panoramic videos. This component directly invokes hardware decoding and renders to internal textures through the GPU and supports switching and displaying multiple video styles. At the same time, the player also provides interactive functions to assist in playback control. Developers only need to add or replace video resources to build simple video playback functions and simplify development steps.
Wireless Streaming Debugging of XR Device Signals
Content verification is an extremely time-consuming part of the project development process. Due to the hardware independence of XR devices and the closeness of streaming tools, verifying and debugging XR projects in the editor is more challenging than traditional mobile/PC project content verification.
In response to the needs of many developers, Cocos CreatorXR v1.1.0 launched the wireless streaming debugging function, which supports previewing XR projects directly in a web browser and synchronizing all signals from XR devices, rendering real-time images correctly and feeding back various controller signal trigger logic. Developers can quickly and completely experience all XR project content without packaging the application to the device, which can not only ensure the integrity of functions but also improve debugging efficiency.
How to get Cocos CreatorXR v1.1.0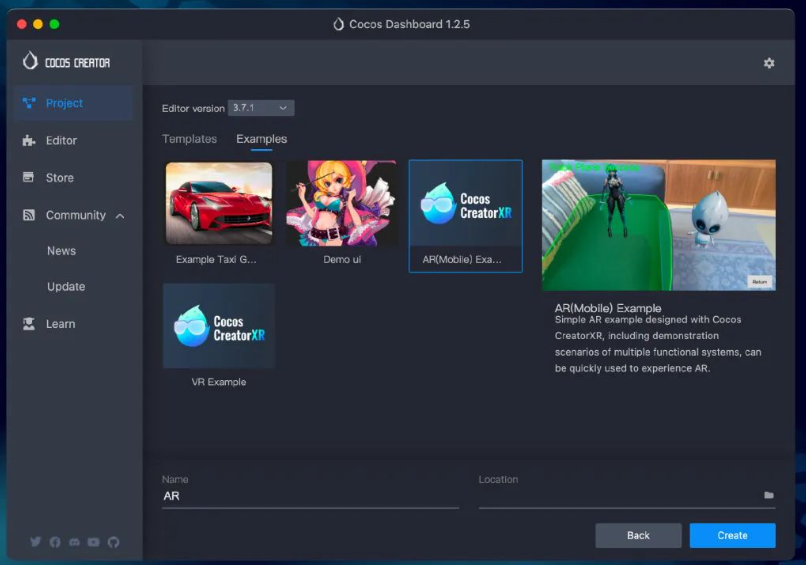 It is recommended to enable v1.1.0 from the Cocos Dashboard
Cocos CreatorXR v1.1.0 is an official plug-in based on Cocos Creator 3.7.1. Using Cocos Creator 3.7.1 or later is recommended to obtain complete functionality. Developers can go to the Cocos Store to download and install it or use Dashboard templates/cases to enable it.
· Cocos CreatorXR v1.1.0 plugin download: https://store.cocos.com/en/app/detail/4117
· Cocos Dashboard download: https://www.cocos.com/en/creator-download
· Cocos CreatorXR User Manual (Chinese)
https://forum.cocos.org/uploads/short-url/ykN1JWTjCdp1WDpek3RMmIFGYvx.pdf
---
v1.1.0 is just a small step in the evolution of Cocos CreatorXR. We hope we can bear the expectations of many developers and friends and create a bright future for the XR ecosystem!