We're proud to have Vungle as a new service for Cocos Creator. Instead of sharing our feelings about it, Vungle has sent their introduction for us to share:
---
Nowadays, if you want to stand out in the fierce game market competition, not only does the product quality need to pass the test, but game manufacturers and developers must also pay more attention to the ability to realize diversified monetization and actively respond to industry changes.
The official team at Cocos has reached a strategic partnership with Vungle (a member of Liftoff), an advertising technology platform driven by data and creativity. Cocos will deeply embed Vungle SDK into Cocos Creator to provide developers with more convenient commercialization services. Developers can access Vungle for free through Cocos Service to enable commercialization and upgrade of games and realize " one-click start, traffic monetization."
Advertising revenue is one of the main channels for game developers to achieve commercialization. Game developers need to find a more suitable advertising platform to help them maximize their traffic value. It is an easy access method. At the same time, as a global advertising technology platform, Vungle can introduce rich advertiser resources covering the world for developers to help developers monetize commercial traffic through advertising models truly effectively.

—— Wu Lei, Senior Business Development Director at Vungle Greater China
The Cocos engine has deeply cultivated the underlying technology for many years, providing developers with professional game development tools and high-quality services. The addition of Vungle will make the Cocos ecosystem more complete. Cocos not only hopes to empower developers technically but also join forces with more partners to improve the game ecosystem and jointly promote the healthy development of the digital content industry.
Since 2012, Vungle SDK started in Silicon Valley in the United States and was gradually introduced to the global market, providing monetization services for mobile developers worldwide. The flexible, reliable, and constantly updated Vungle SDK continuously ensures high performance. Based on the reliable traffic of Vungle SDK, developers can optimize their monetization strategy, ensure the best user experience, and achieve stable revenue growth targets without additional investment from developers. At the same time, in the face of the continuous development and progress of the industry, Vungle's advertising model categories are also more diversified. The supported advertising formats include full-screen advertising and non-full-screen advertising. Among them, non-full-screen advertisements include MREC rectangular video advertisements and banner advertisements, providing developers with a variety of choices and improving monetization efficiency.
As an international advertising platform, Vungle has accumulated a rich, successful experience in monetization and has a deep accumulation of data. From waterfall, to fixed reserve price, to bidding, Vungle is constantly exploring the monetization side to help developers maximize business income. In addition, Vungle's excellent international material team continues to empower developers in terms of creative materials, helping them maximize revenue and further improve conversion rates.
In the future, with the improvement of user players' quality requirements for game products, and the normalization of industry privacy protection trends, industry competition will still be fierce, which also requires game developers to improve their ability to diversify and realize in-depth cooperation with international advertising platforms. The cooperation between Vungle and Cocos can not only provide technical empowerment for developers but also really help them achieve continuous growth of traffic monetization and actively respond to the ever-changing industry development.
One-click access to Vungle
Use Cocos Creator to open the project that needs to access the Vungle service.
Click Panel -> Service on the menu bar to open the service panel, select Vungle to enter the service details page. Then click the  Enable button at the top right to activate the service. For details, refer to the  Service Panel Operation Guide.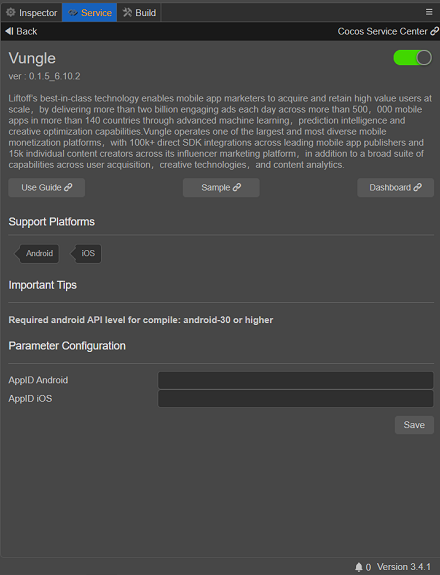 Parameter configuration: The AppID in the parameter configuration needs to be obtained from the Vungle service background. Vungle aggregated ads need to create different AppIDs on iOS and Android platforms, and the two cannot share the same AppID.
If you don't have an account on Vungle's aggregated advertising platform, please go to the Vungle official website to register and create an APP and advertising space in the Vungle console. For details, please refer to the Vungle documentation.
Vungle official website