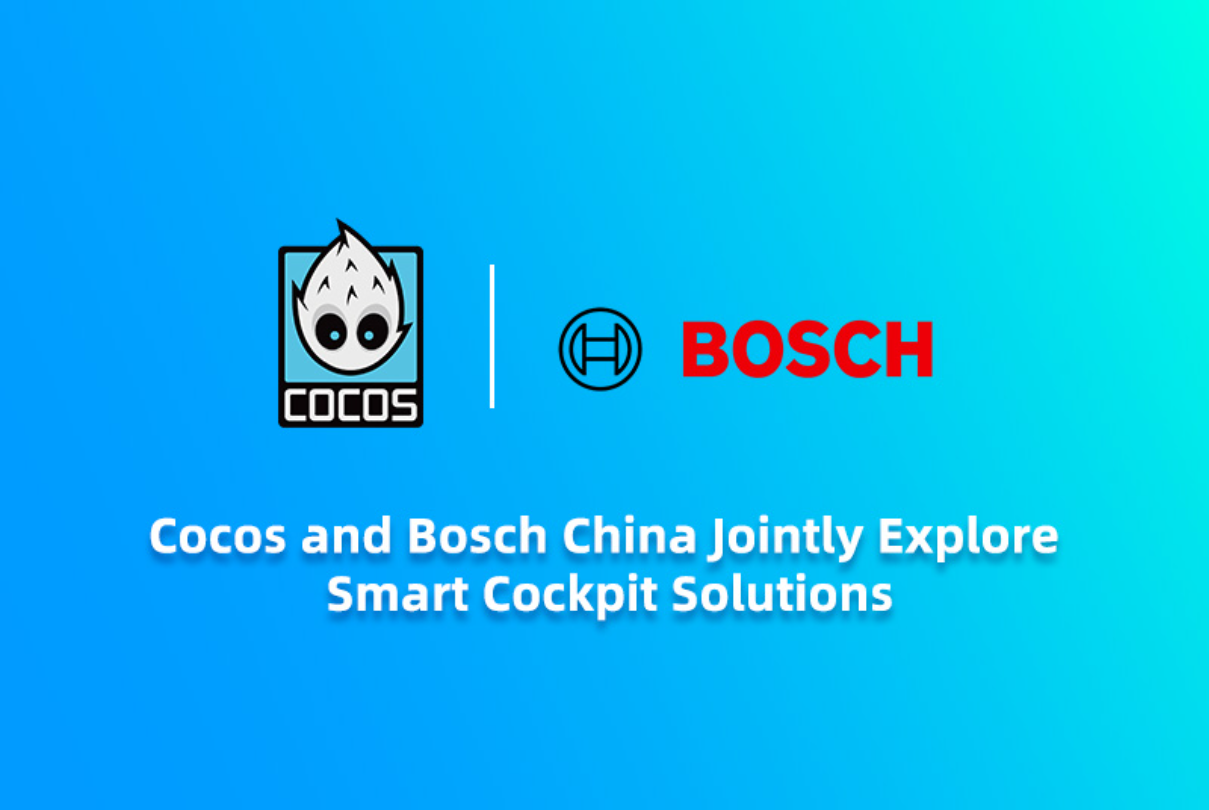 Cocos and Bosch China will jointly explore innovative solutions in the field of smart cockpits to promote the development of smart cars. By combining Bosch China's expertise and experience in automotive electronics and smart cockpits with Cocos' leading advantages in engine technology and content development, the two parties will jointly research and develop innovative applications for smart cockpits, bringing intelligent travel experiences to consumers.
In smart cockpits, based on its rich experience with real-time 3D engines, lightweight and efficient technical architecture, and a global ecosystem of millions of developers, Cocos provides comprehensive solutions and services from demand analysis, product design, technology development to customized software applications for automotive industry customers. As a global leader in automotive technology and services, Bosch China has long led technological change and made significant contributions to the automotive industry. It is committed to creating a sustainable, safe and seamless future mobility vision through personalized, automated, electrified, and connected solutions, providing customers with integrated intelligent transportation solutions.
The cooperation between Cocos and Bosch China represents cross-industry collaboration with the core goal of enhancing user experience and presenting consumers with the ultimate cockpit experience. It will further enable smart cars to become a "third living space" and jointly build a new ecosystem for smart vehicles. This cooperation will provide consumers with exceptional cockpit experiences. Cocos and Bosch China are working together to usher in a new chapter for smart cars, using technological innovation to drive sustained growth of the automotive industry.
Cocos HMI smart cockpit solution, helping to upgrade the car intelligence

Based on the excellent cross-platform capability of the Cocos engine, the Cocos HMI solution can run on multiple chips and adapt to Android, Linux, QNX, and other mainstream car systems, helping OEMs achieve full coverage of low, mid, and high-end models.

Cocos HMI is based on the lightweight and high efficiency of the Cocos engine, which can achieve the lowest resource consumption with the same level of graphics performance as other commercial engines. Cocos can provide the best visual experience with the same resource consumption.

With Cocos' efficient tool chain, Cocos HMI provides a unified technology stack and development standard and has built-in mature and stable core application development templates that have been proven in commercial projects.

Cocos is also able to provide customers with original technical support. It supports in-depth white-box mode customization and source code level customization to help OEMs create a unified, standardized, automated, and reusable in-vehicle application development workflow to help car companies build multimodal smart cockpits and promote smart car upgrades.
About Bosch China
The first Bosch sales office in Asia opened in Shanghai on October 19, 1909. Today, all four Bosch business sectors are present in China: Mobility Solutions, Industrial Technology, Consumer Goods, and Energy and Building Technology.In 2017, Bosch China operated 62 legal entities and 23 technical centers, and recorded sales of 113.4 billion yuan. As of December 31, 2017, the Bosch Group employed nearly 60,000 associates in China, the largest Bosch workforce outside Germany. China is also Bosch's second largest market worldwide.